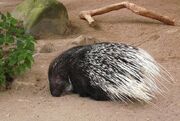 CRESTED PORCUPINE
Physical Attributes
Hystrix cristata is part of the family Hystricidae. The more common name for this species is the crested porcupine. The adult crested porcupine has an average head and body length of about 60 to 83 cm (24 to 33 in) long, discounting the tail, and weighs from 13 to 27 kg (29 to 60 lb).
Almost the entire body is covered with bristles which are either dark brown or black and rather coarse. This mammal is recognizable by the quills that run along the head, nape, and back that can be raised into a crest. Hence the name crested porcupine. There are also some sturdier quills which are about 35 cm (14 in) in length and run along the sides and back half of the body. These sturdier quills are used, for the most part, for defense and are usually marked with light and dark bands which alternate; these are not firmly attached. This porcupine has a shorter tail which has rattle quills at the end. The rattle quills broaden at the terminal end and the broad portion is hollow with thin walls. When these quills are vibrated they produce a hiss-like rattle.
The front feet of the crested porcupine have four developed and clawed digits with a regressed thumb, the rear feet have five. The paws have naked and padded soles and have a plantigrade gait. The ears are external and both the eyes and ears are very small with long vibrissae on its head. The skull is specific in many ways, first the infraorbital foramen is greatly enlarged so that portions of the masseter extend through it and attach from the frontal side surface of the snout. Second the angular process is inflected on the lower jaw, thirdly the nasal cavity is enlarged. Prominent pockets create enlarged areas of attachment for chewing muscle. Collar bones are very much reduced, and there are one incisor, one premolar and three molars.
Food and digestion
The Crested porcupine is for the most part herbivorous, eating roots, bulbs, crops. But occasionally they do consume insects, small vertebrates and carrion. In order to ingest calcium and sharpen incisors they often gnaw on bones. These animals often travel long distances looking for food. They have high crowned teeth that grind plant cells which are digested in the stomach and the undigested fibers are retained in an enlarged appendix and anterior large intestine where they are broken down by microorganisms.
Buizoo experience
The trip is very long but when you enter in Buinzoo you see lots of animals you see in the enter a jaguar, manaties, a panter and a lots of mokeys the nex part is the nocturama.
Is fun go with friends. Is a very a very big zoo is the bigest zoo of chile.